FACILITATION OF
STRATEGIC PLANNING
A unique combination of innate abilities, skills, and education have positioned me to be a tremendous help to organizations in the area of strategic planning.
"Strategic" in Strengths Finder
My Strengths Finder assessment lists "strategic" as my second top strength.  "The Strategic theme enables you to sort through the clutter and find the best route. It is not a skill that can be taught. It is a distinct way of thinking, a special perspective on the world at large. This perspective allows you to see patterns where others simply see complexity…" 
ToP Strategic Planning Trainer
Since 2020, I have worked as a trainer of the Technology of Participation Strategic Planning course. As a Certified ToP Facilitator (CTF), I have had the opportunity to better understand the theory and practice of this proven and effective process. I bring this knowledge and practice to my clients. 
Graphic Facilitator
I bring the impact of immersive, collaborative visuals to document your plan as we create it. Often, by the end of our time together, we will be surrounded by visual reminders of your insights, vision, and actionable plans for achievement.
Leadership and Innovation
As a graduate student in Leadership, I bring to clients cutting-edge frameworks in the areas of leadership, innovation, and design thinking. I often design assessments and implementation methods to better understand your unique environment, challenge, or opportunities.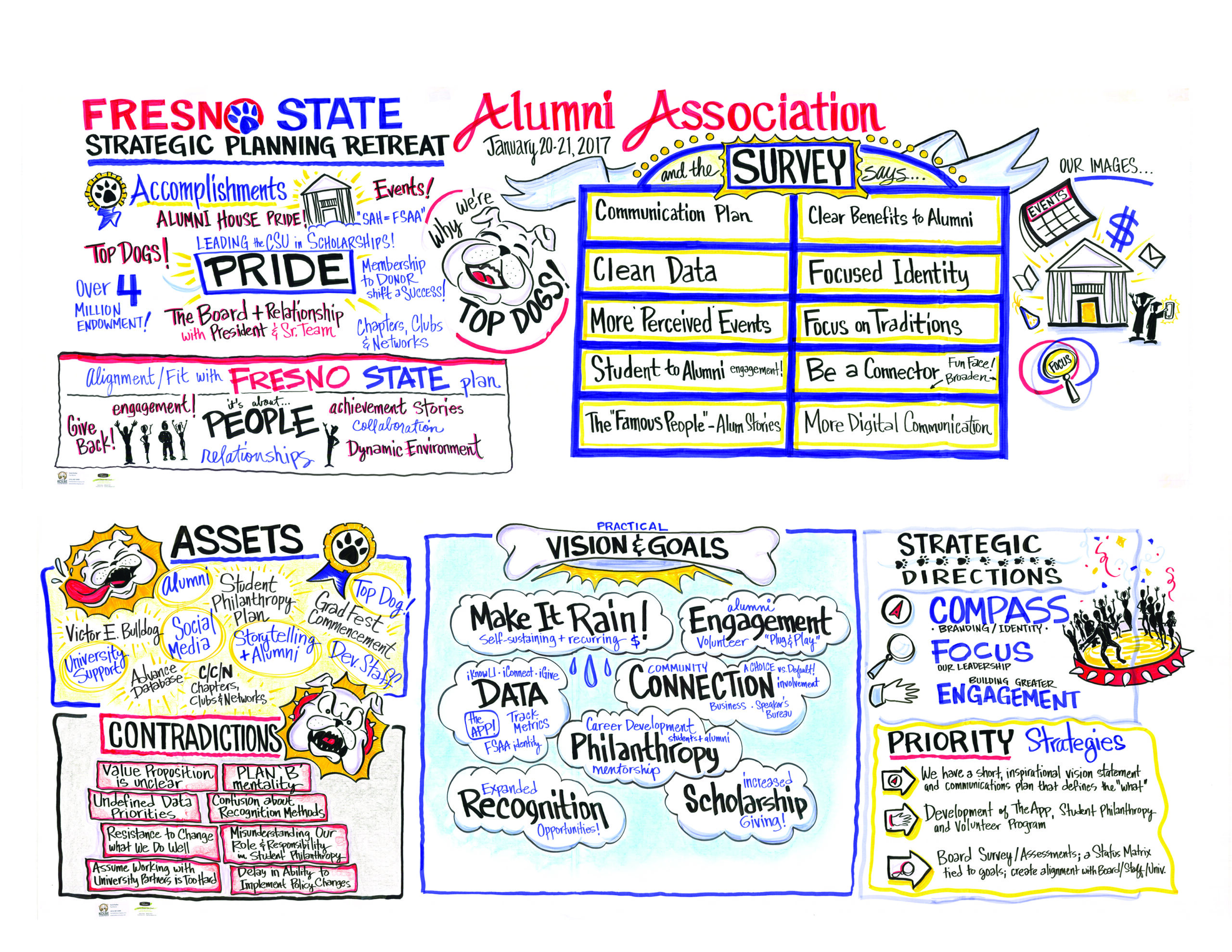 "Visuals and metaphors, which are valuable when creating stories during a ToP historical scan, are especially empowering during the action planning stage of strategic planning. They also help keep motivation high during the implementation phase."
— Bill Staples, Transformational Strategy
A typical strategic planning process involves three primary phases:
Consultation: Design and Environmental Scanning – This phase prepares us for the formal strategic planning process. We may do listening sessions with stakeholders, create a history map, do surveys, and determine the focus of the planning effort. Often the Executive Director and a focused design team are enlisted in this phase.
Facilitation: The ideal process is two full days of intensive planning taking us through a series of collaborative workshops. We will consider your practical vision, blocks and barriers, determine strategic directions, and create a focused implementation plan. By the end of two days, your team will have the core of your strategic plan with clear action items, assignments, and a calendar for completion. Ideally, the key stakeholders are represented in this process—top executives, board members, staff, and others identified as vital voices in the room.
Implementation: Designed into the strategic plan are regular internal and external follow-up checkpoints. In a world of complexity and rapid change, the ability to make adjustments, course-correct, and adapt is essential to creating sustainable and viable strategic plans. We will design a strategic plan that is dynamic and living, not an artifact on a shelf.